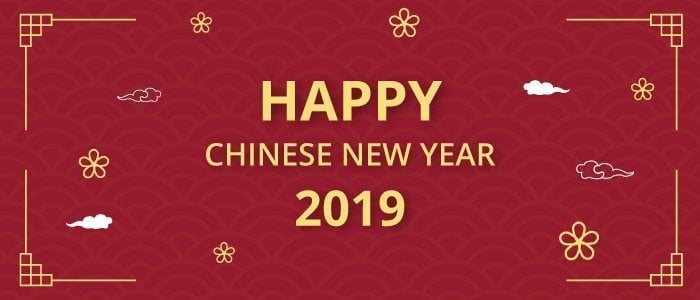 Chinese New Year is one of the most important occasions of the year in the Oriental World, just like Christmas in the United States and Europe. Chinese New Year or Lunar New Year in other Asian countries is a festival that celebrates the beginning of a new year, which is coordinated by the cycles of the moon.
In 2019, the holiday will be celebrated on February 5th. Families from China, Japan, Korea, Thailand, Malaysia, Singapore, and Indonesia will gather for the traditional reunion dinner and participate in the gift exchange. Married couples and the elderly will hand out Red Envelopes or Red Packets to unmarried young people and children to wish them luck in the new year.
Like Christmas for the western world, Lunar New Year is the peak sales season in the countries that celebrate the holiday. According to the statistics provided by the Guangzhou Municipal Commission of Commerce, the city recorded total sales of RMB2.94 billion during the Spring Festival (another name for CNY) in 2018, representing double-digit year-on-year growth. Regardless of the business you are doing, there is always a potential to boost your sales during the celebration. Here's how you can do that:
How to Approach Chinese New Year Marketing
Before you execute any marketing strategy, make sure that you have a solid plan. To help you have the most successful Chinese New Year sales season, Gogoprint has prepared the list of actionable tips you can try out:
Plan Your Marketing Campaigns a Couple of Months in Advance
You need to set up a plan way before the Chinese New Year. Think of your target audience, their values, typical CNY activities, and expectations. What do you think would be the best way to reach them during the festive period? Knowing your answers, you will be able to craft an effective marketing strategy that will generate additional revenue.
Design Your Promotional Products Keeping in Mind Traditional Values and Symbols
Chinese New Year is all about family and traditions. When creating promotional products and offers, make sure to mention the importance of family and friends. By conveying warm-hearted emotions, you will win customers' loyalty.
To strengthen your message and attract more attention, design your products using traditional CNY colors like red and gold and showcase symbols of luck and the upcoming years' Chinese zodiac (pigs this year).
Now you can learn more about the best Holiday Marketing practices and start designing printed marketing materials for Lunar New Year. Gogoprint will help you choose the best option:
Red Packets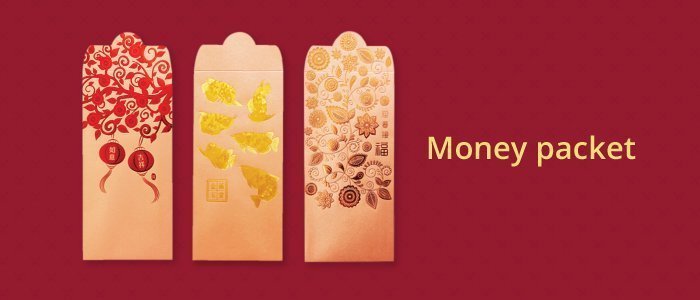 One of the most important traditions of CNY is red envelopes or money packets exchange. Usually the money packets are red as it is believed to be the lucky color in China.
Red Packets exchange is the most awaited moment of Chinese New Year (but maybe not so much for the adults who hand out the money). Keeping in mind this tradition, you can create something different for your marketing strategy. For example, you can send customers well-designed money packets that showcase your company logo and have a voucher or a coupon inside.
Calendars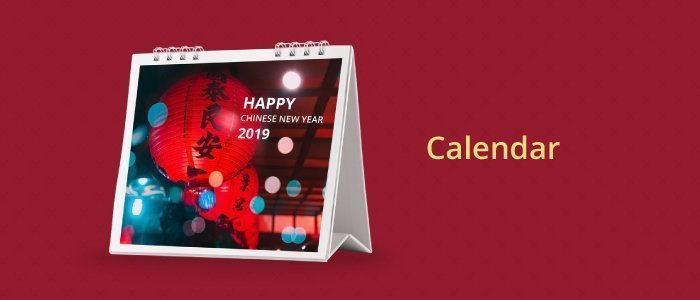 Even though we all have digital calendars, the printed version is still a nice thing to have as it serves as a constant reminder of pressing tasks we have.
The majority of people who study or work still use printed calendars because paper agendas make task planning easier and more efficient. Print branded calendars in CNY style and hand them out to your customers. To make them stand out from the regular calendars, add Moon Phases and interesting facts about Lunar New Year. That will make your prospects keep your calendars on their desks for the entire year, unobtrusively reminding them about your brand. To design one, you can use Gogoprint's calendar template.
Postcards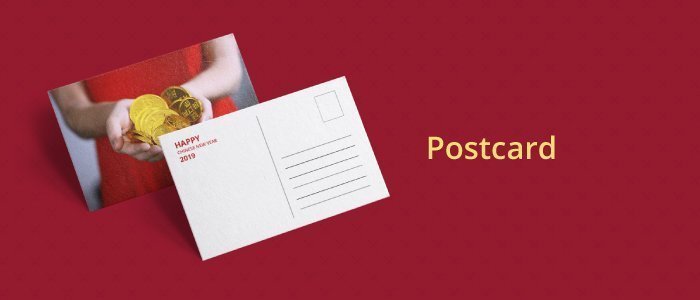 Sending festive cheers via email is probably one of the simplest things you can do to wish your customers all the best in the new year. However, there are still many people who don't really check emails during the holiday period. That is why you should think of sending them a printed postcard.
You can send it separately or with their orders. Or you can hand them out at your brick-and-mortar store. According to Forbes, when customers read a printed marketing material, they are more engaged than after seeing your message online. Add a nice touch by personally signing it. It will make your postcards look more special because it shows that your business cares about customers.
Those are just a few marketing tricks you can try out during Chinese New Year 2019. Don't forget to give Gogoprint a call to discuss the best options for your business.