Valentine's Day is a holiday that is dedicated to love and affection between intimate partners. It is celebrated on February 14th every year and is a major opportunity for businesses to connect with customers and promote their products or services in a fun and festive way. In this article, we will be taking a look at the top 10 best Valentine's Day marketing campaigns of 2023.
1. Personalized Valentine's Day Cards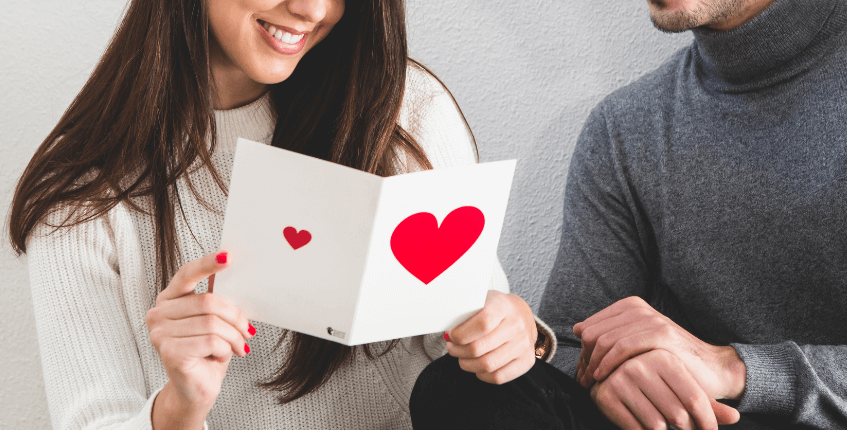 Valentine's Day greeting cards are a special and traditional way to express love and affection to a partner or loved one. They are a popular choice for Valentine's Day gifts and can be used as a marketing tool by businesses. Additionally, they can also create unique and personalized designs that suit your brand or business identity. Greeting card printing can also be used as a medium to include coupons or promotional offers, making them more attractive and engaging to customers. Furthermore, it's a special and timeless way to market a business and offer a unique and heartfelt gift to whoever receives one.
2. Valentine's Day-themed direct mail campaign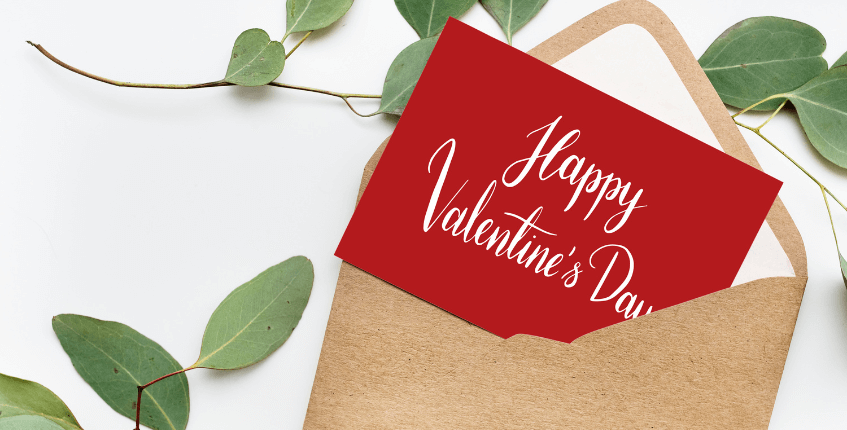 A direct mail campaign for Valentine's Day is a marketing strategy that involves sending Valentine's Day-themed brochures, flyers, or postcards to potential customers through the mail. These materials feature Valentine's Day-themed graphics and messaging that are designed to promote products or services related to the holiday. For example, a florist might send out a brochure featuring a selection of Valentine's Day bouquets, or a jewellery store might send out a personalized postcard advertising a special promotion on Valentine's Day-themed jewellery. Direct mail campaigns for Valentine's Day can be an effective way to reach customers who may be looking for last-minute gifts, and can also be used to target specific demographics or areas. The use of personalized messages and offers can also make these marketing materials more effective.
3. Valentine's Day Special Discounts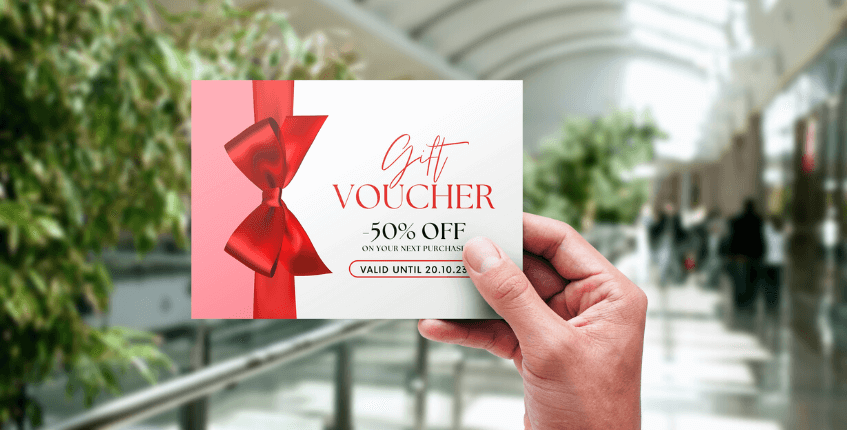 Offering special discounts or promotions for Valentine's Day is a popular marketing strategy used by businesses to boost sales and traffic. These deals and promotions can include things like buy one get one free offer, percentage off discounts, or free gifts with purchase. For example, a restaurant might offer a special Valentine's Day menu at a discounted price, or a spa might offer a couples massage package at a reduced rate. By offering these special deals and promotions, businesses can attract customers who are looking for a good deal and increase foot traffic during the Valentine's Day holiday. Additionally, these promotions can also be used to move older inventory or clear out excess stock. This not only benefits the business with increased revenue but also benefits the customers by providing them with an attractive offer. If you are looking for the easiest and cheapest way to make a successful Valentine's Day campaign, try out personalized gift vouchers or coupon printing to encourage customers to come to your store.
4. In-store event or sale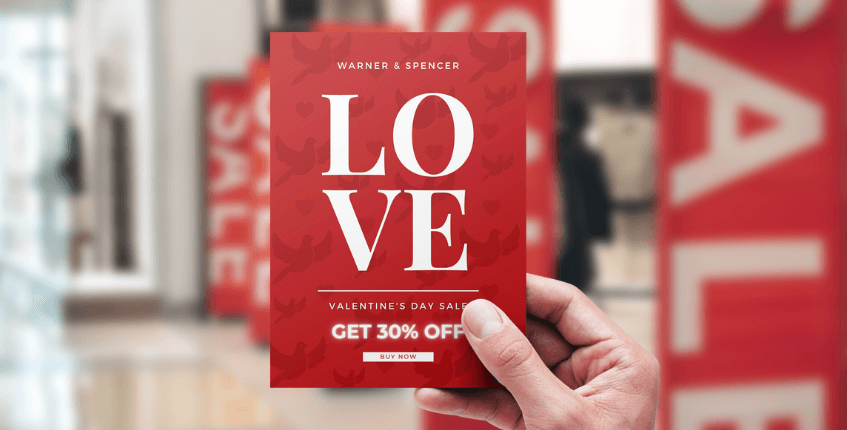 Hosting a Valentine's Day event or sale creates a sense of excitement and urgency for customers to visit your store and make a purchase. It also creates a festive atmosphere that can attract customers who are looking to celebrate the holiday. These events can take many forms, such as Valentine's Day-themed sale, a product demonstration or launch, or a special event with live entertainment or refreshments. For example, a clothing store might want to host a Valentine's Day sale featuring romantic and elegant clothing, or a beauty store can consider hosting a product demonstration event showcasing Valentine's Day-inspired makeup looks. Additionally, these events can also be used to promote new products or services that the business has to offer. This type of event can also be used to generate buzz and build a loyal customer base by providing an enjoyable and memorable experience. Just use a simple yet very effective marketing tool to announce the promotion with flyer printing!
5. Valentine's Day Gift Guide
Creating a Valentine's Day gift guide is also one of the best marketing strategies to improve your brand visibility. This guide can be in the form of a flyer, brochure, or booklet printing that showcases various gift options for customers to choose from. Examples of items that could be included in the guide are chocolates, flowers, jewellery, and romantic getaways. The guide can be distributed in-store, through direct mail, or through events. This not only helps customers with gift ideas but also encourages them to make a purchase. Additionally, businesses can offer special promotions or discounts for customers who purchase items from the guide.
6. Valentine's Day-themed Packaging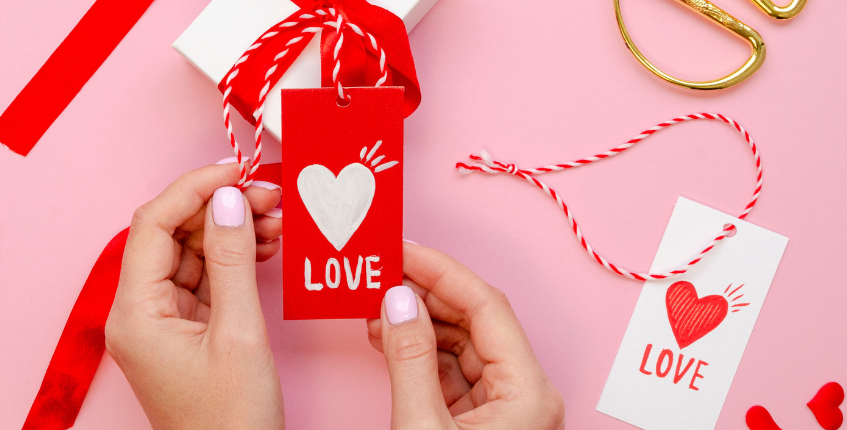 Customizing Valentine's Day-themed packaging for your products is a great way to make them look more appealing as gifts and to create a festive atmosphere. This can be done by using Valentine's Day-themed colours, such as red and pink, or by adding decorations such as hearts or cupids. You can also use special Valentine's Day-themed wrapping paper, ribbons, or bags. This will make your products stand out on the shelves and make them look desirable to customers who are looking for gifts for their loved ones. Additionally, you can add a special message or tagline to the packaging, such as "The perfect gift for your loved one" to further emphasize the gift-giving aspect of the holiday. If you are wondering, sticker printing or a custom tag is the way to go to make this Valentine's season more special and personalized.
7. Valentine's Day-themed Social Media Graphics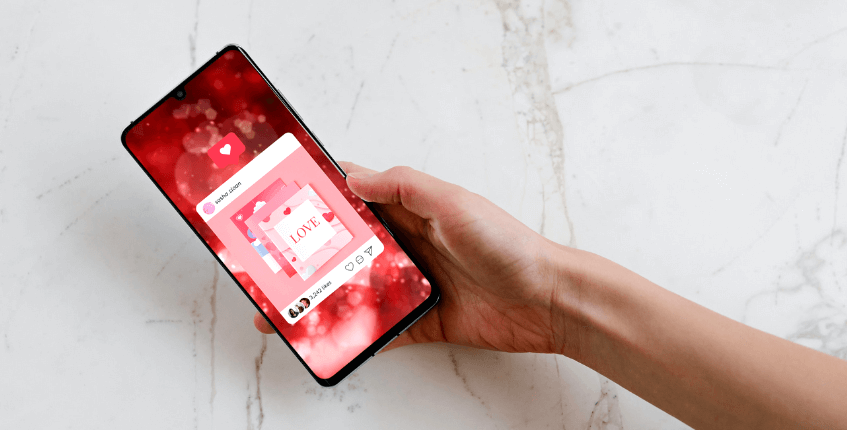 Spreading love messages on social media with Valentine's Day-themed graphics is a great way to start Valentine's Day promotional campaign. This can be done by creating visually appealing graphics that feature your products or services in a Valentine's Day setting or incorporating romantic symbols like hearts, flowers, and cupids. You can also create graphics that convey a message of love, such as "Show your loved one how much you care" or "Find the perfect gift for your Valentine." You can use these graphics in your social media posts and stories, and also as ads to boost your reach. By using Valentine's Day themes, you can appeal to customers who are looking for gift ideas or romantic experiences. The good thing about the online campaign is, you can target a specific audience with interests and demographics that align with your products or services.
8. Valentine's Day-themed Email Campaign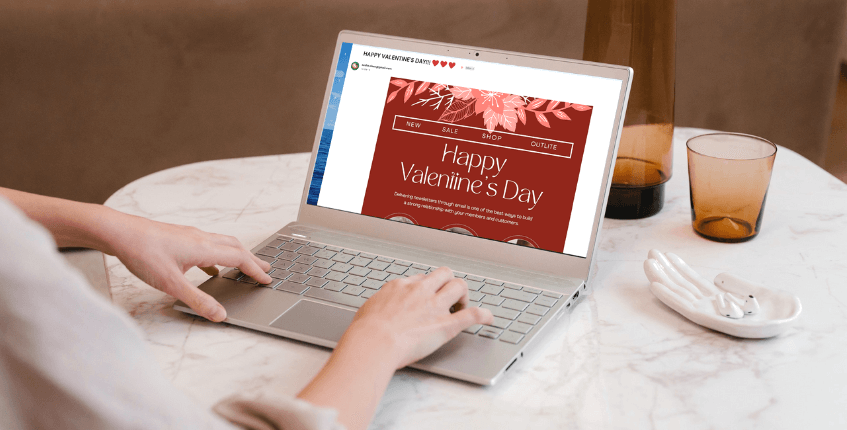 Email marketing is an effective way to reach out to customers with Valentine's Day-themed messages. You can send well wishes to your customers or share special offers or promotions that are available for the holiday. By including a call-to-action, such as a link to your website or a special promotion code, you can encourage customers to make a purchase. Furthermore, you can segment your email list to target specific customers, such as those who have made previous purchases, to ensure that your message is reaching the right audience. Email marketing allows you to reach out to your customers in a personalized and timely manner, making it a great way to increase sales during Valentine's Day.
9. Valentine's Day-themed Banners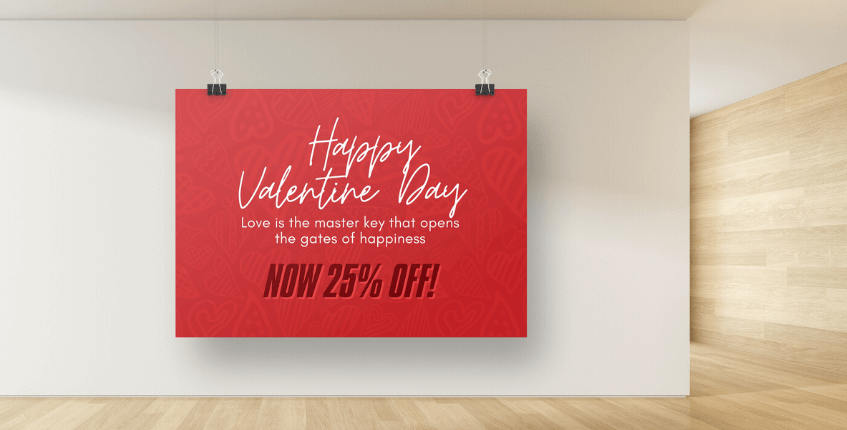 Businesses should consider getting Valentine's Day-themed banners as storefront decoration because it can help to attract customers and increase sales during the holiday season. Valentine's Day is a popular holiday for gift-giving and many people start looking for gift ideas well in advance. By using banner printing to promote Valentine's Day deals and gift ideas, businesses can appeal to customers who are looking for the perfect gift for their loved ones. Additionally, the use of Valentine's Day-themed banners can create a festive atmosphere in the store that can make customers feel more inclined to shop and make a purchase. The banners can also help to increase brand awareness and create a consistent message for your Valentine's Day campaign.
10. Valentine's Day Contests
Hosting a Valentine's Day contest is a great way to engage with customers and increase brand awareness. One way to do this is by using a foam board photo frame as part of the contest. This can be a fun and interactive way for customers to participate and show their love for your brand. For example, customers can take a photo with a foam board photo frame that features your brand's logo or message, and then share the photo on social media using a specific hashtag. The photos with the most likes or shares can win prizes such as gift cards or discounts on products. Not only it can increase your social media presence and engagement, but also it can create a buzz around your brand and products. Additionally, the photos that customers share on social media can help to promote your brand to their friends and followers, increasing your reach and potential customer base. Hosting a Valentine's Day contest is an effective way to increase brand awareness and customer engagement during this holiday season.

Overall, there are many creative ways to use print marketing to promote your business on Valentine's Day. By using a combination of print marketing techniques, you can reach customers in a variety of ways and increase brand awareness. It's also important to align your print marketing with other channels like digital and in-store, so you can create a cohesive message and branding throughout the campaign. With a little thought and planning, your Valentine's Day marketing campaign can be a success and help your business to grow. Most importantly, be creative and think about what will appeal to your target audience - if you are aware of this, you can create a campaign that is both effective and memorable! Happy Valentine's Day and Happy Printing!