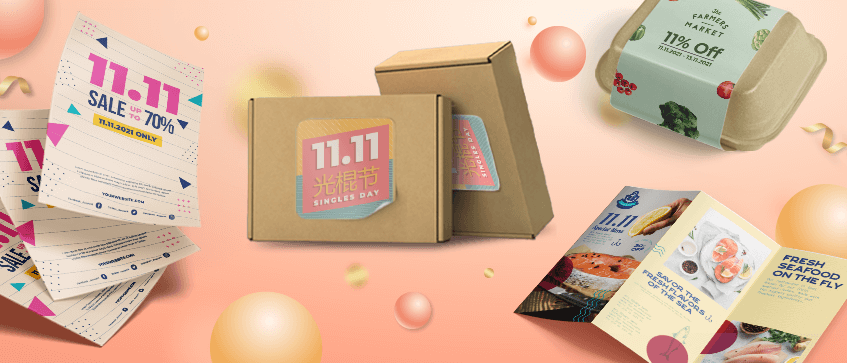 What are your customers searching for during the 11.11 sale? It seems that the 11.11 sale is all about discounts, where people are looking for coupons to find the cheapest deal around . During the 11.11 sale period, customers tend to search for shopping guides and lists of top deals in order to choose the best products according to their needs and budget. Also, they look for voucher codes or promotional discount codes online in order to make their purchases with lower cost before it ends abruptly at midnight!
As 11.11 is a huge sale event, what can marketers do to push their products and brands up to the top so you will not miss out on any sales? Here are a few 11.11 marketing ideas that you should consider:
Custom Stickers to Promote Hot Deals
With custom stickers you can put marketing messages on your store windows, store walls, freebies or even product labels to remind customers of 11.11 deals. Include a simple code to attract walk-in customers to make another purchase online or better, insert a QR code, easy for customers to scan and get information directly through their smartphones. This is an effective way to make them come back, especially for newcomers who did not know about your products and brands before the event! They will be more excited as we give them a chance to try other interesting products with lower prices. Indeed! Interesting deals always give business chances to boost sales and marketing. For e-commerce business, you can spice up customers' experience with beautiful branded stickers on the packaging boxes. A study done by University Wisconsin found that premium packaging can improve trust of your company by 19%. This might be a chance you don't want to miss to get more and more sales by the end of November every year!
Sales Announcement on Flyers
Keep your customers engaged in the weeks before 11.11 by displaying flyers with all your current products, not only e-commerce store products, but also offline business products like food, clothing, etc., in order to create awareness long before 11th of November. People will be looking for discounts on everything at this point! Let your customers have flexibility paying online and pick up the products from the nearest retail store. Giving them flyers or coupons can attract visitors who can come back again after 11.11 ends.
Product Promotion on Posters
Posters with 11.11 deals can be a good way to attract new customers and show your support for the big day! Digital printing posters are not expensive, you can print as many as you need and reuse them in the following years! You can also promote QR code on posters or leaflets so they can directly go to their mobile phones ready to scan! QR codes enable quick access via smartphones to get more information, such as the biggest seasonal deals of the year and other promotional discount codes! Put up signs in front of your retail stores or add it into flyers that you distribute at offline locations.
Giving Customers Gift Vouchers
A gift voucher or a coupon is one of the main reasons people shop during this event as many offer up to 70% off! According to the book Marketing Metrics, businesses have a 60-70% chance of selling to existing customers and only 5%-20% probability in selling to new customers, thus converting new customers into repeat buyers is a winning strategy. You will be surprised to know how coupons can increase your revenue in just a few weeks. Remember, you should be present on social media channels as 11.11 deal hunters love to share their shopping tips with others as well as the best 11.11 deals they have stumbled upon.
Add Promo code on Packaging Sleeves
Make an 11.11 deal within your product's wrapper, consumers will not only keep it as a souvenir but also share their happiness with friends and family for the next purchase! 11.11 promo code can be included into the package that they receive from you. With little information such as adding a promo code on a packaging sleeve business will get more and more loyal customers who would love to come back to buy more goods with greater discounts! If possible, include a QR code for 11.11 deals which enables quick access to more information without any hassle!
During this time of the year, it is important that marketers also consider 11.11 marketing and sales ideas that increase customers' engagement and widen your influence since more and more companies sign up to join this biggest online sales event. They will be part of the "marketing noise" of marketing campaigns, but what separates you from others is which of these 11.11 marketing ideas you decide to implement!
Are you ready for the biggest annual sale day? What are your plans? Gogoprint will help you get exactly what you need for 11.11 sales preparation.