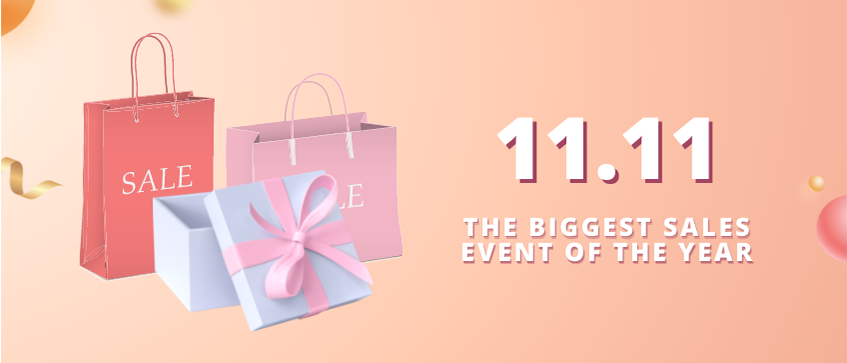 11.11 Global Shopping Festival is a special discount day for consumers and many companies in the world, especially merchants who want to boost their sales on this day. This event usually occurs in the 11th month of every year (November) and it lasts for 24 hours (from midnight to the next midnight).
The origins of this event dated back to 2009 when Jack Ma wanted Alibaba customers to be able to enjoy great deals online during China's Single's Day. It has been an annual sexy shopping carnival for almost 10 years now! Alibaba's Singles Day started small but grew into the largest online shopping event in history with over $25 billion USD in sales in 24 hours! It is even bigger than Cybermonday and Black Friday combined. Because of its outstanding performance, the 11.11 Global Shopping Festival has become an unprecedented influential marketing carnival all around the world.
But it's not just Alibaba that makes this day so special, there are more companies joining in to give out discounts to shoppers! There are thousands of worldwide brands trying their best to attract customers' attention on November 11th. Some choose to promote their products with big price tags while others take advantage of this holiday for free gifts and coupons like "buy six get one free" or "spend 30 bucks and save 10 bucks".
What's more, many companies prepare special 11.11 themes to make their products attractive on this day. For example, Apple launched a new iPhone sale with significant discounts in 2016; Nike launched limited edition shoes for the occasion; Starbucks also has daily promotional gifts... With these brands' participation, consumers can get different benefits from different corporations at the same time!
All in all, 11.11 Global Shopping Festival is a great chance for merchants and companies to promote themselves and attract potential customers while clearing out inventory and building consumer loyalty at the same time. This carnival lasts for 24 hours only so we should seize every second of it!
How to take advantage of the 11.11 Global Shopping Festival?
Many companies and merchants have already started their preparation for this day, but if you haven't, have no fear though, it's not the end of the world. Here are some marketing ideas that you can promote in this carnival season:
1. Special discounts on your products This is a must-do thing because who would buy something without discounts? In this case, be creative! Use special themes or methods for your sales like inserting custom printed items such as stickers, flyers, leaflets, gift vouchers, packaging sleeves, etc, because not all customers/potential customers have enough time to visit every mall or website during the 24 hours that you could lose them forever if they did not enjoy a good deal.
2. Gifts and coupons Everyone loves free stuff so why don't you give them a gift along with your discounts? Customers purchase a large number of things from you during the 11.11 Global Shopping Festival anyway so they deserve to get some gifts. The coupons would be an amazing bonus for them!
3. Special events, many brands choose to release new products during this period. For this purpose, they often make special activities in order to promote their newly launched items in which you can take part in order to let the world know about the new products that you are selling too.
A great day comes only once per year so we should seize every second of it! We don't have much time left until November 11th but there is still hope for us to prepare something special to attract potential customers. However, remember that the success of your 11.11 Global Shopping Festival marketing plan depends on your creativity and activities!
Plan out your marketing wisely, and get your printed items ready with Gogoprint. This year, we offer 11% OFF of selected items from 25th of October to 8th of November. Use our promo code provided in the banner of the main page during the checkout to enjoy the best deals printed.