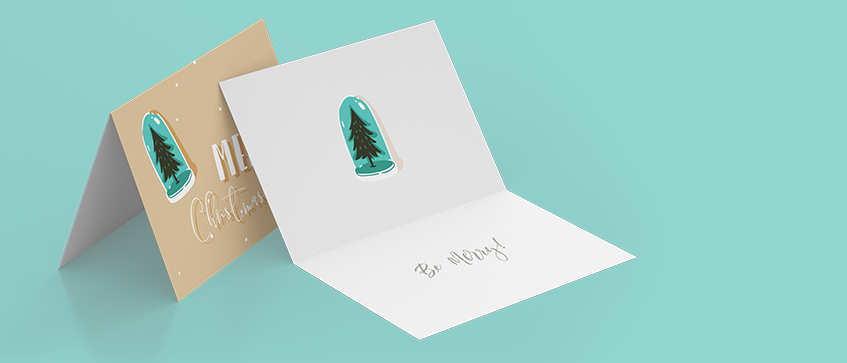 As the end of the year is approaching, it is time once again to show everyone your appreciation, which is none-other than greeting cards. While ready-made greeting cards are great, your designed greeting cards hold more heart as it is personally customized by you!
Before you start designing your awesome cards for your family and friends, we at Gogoprint not only offer various types of unique materials for greeting cards ( folded or non-folded ), we're also here to get you inspired by introducing the latest design trends on greeting cards. Without further ado, here are the top-6 design trends for greeting cards.
1. Lines and Shapes
Nowadays, many modern greeting cards are designed to be as simple as possible: shapes, lines and a big space. After all less is more, and with greeting cards, shapes and lines are all you need for a nice, simple and sleek design while getting the message across. No images and text needed.

Design by Sincerely Paper
2. Retro / Vintage
Old but gold, designs can be just as traditional as greeting cards, which are retro / vintage cards. Another plus is everyone appreciates the old traditional designs mixed with modern elements as it is the new trend nowadays. Vintage and retro inspired cards are also great for those who embrace formality.

Design by David Sierra
3. Illustration
Illustrations can never go wrong, especially on greeting cards. Many people do enjoy looking at pretty pictures with style, like brushes, strokes, patterns and all those wonderful colors combined in a perfect package.

Design by Nika Gonchar
4. Eco-friendly
If you're looking for more eco-friendly alternatives, greeting cards made with eco-friendly materials such as kraft or beyong paper are great as well. Not only do they look premium, the rough texture they gave makes your greeting cards all the more unique!

Design by Emphase Sàrl
5. Hotstamping
When it comes to holiday seasons, you'll always see something in common - shiny things! Hotstamping is perfect for greeting cards because they look fancy and pretty, yet formal at the same time.

Design by Krista Hansen
6. Duotone
Just like retro, duotone had pieces of the past while remaining modern-looking, this is because the concept originated from a technique used in printing presses. Duotone simply consists of two color palettes to bring the fun out of designs, which are great for greeting cards.

Design by Izza Magendra
Conclusion
Did our article inspire you? We sure hope it does :)
Now that you're ready, express how you feel and print with our greeting cards! We offer folded and non-folded greeting cards for you to choose from. Unlike Ecards, greeting cards are more valuable due to the presence of printed, high-quality paper decorated with your amazing designs. Just remember, no matter how simple your greeting card is, it will always be treasured.
Last but not least, we from Gogoprint will be wishing you happy holidays and a wonderful New Year!