NCR Bill Books are an important component for businesses of any size. Bill books are used by shops and restaurants for invoice purposes, but also by any company which needs proof of delivery documents (DO / Delivery Order proof), handwritten purchase orders (PO) as well as registration forms - for example in schools, banks or insurance.
Using the Gogoprint website, you can now conveniently print NCR bill books online. In this blog post, we will provide more information about product details, and give you an overview of how to place your order and prepare your artwork.
How many plies Do NCR Bill Books have?
NCR Bill Books have 2 to 5 plies. Each ply corresponds to a page of different color. You can choose how many plies you want, based on the number of document copies that you need. For example, if you choose:
2 plies:
the top page is white and the bottom page pink. You will have one copy of the original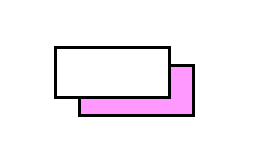 3 plies:
the top page is white, the middle pink and the bottom yellow. You will have two copies of the original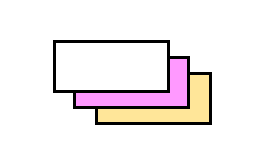 4 plies:
From top to bottom, pages are: white, pink, yellow, and blue. You will have three copies of the original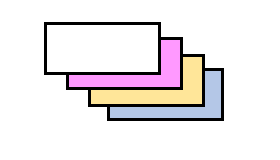 5 plies:
From top to bottom, pages are: white, pink, yellow, blue and green. You will have four copies of the original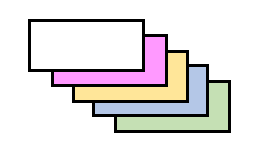 By convention, bill books always come in PADS with 50 SETS of PAGES: for example, if you order pads with 2 plies, you will receive pads containing 100 pages, composed of 50 sets of alternatively white and pink pages. If your order the printing of pads with 4 plies, you will receive pads containing 200 pages, composed of 50 sets of alternatively white, pink, yellow, and blue pages.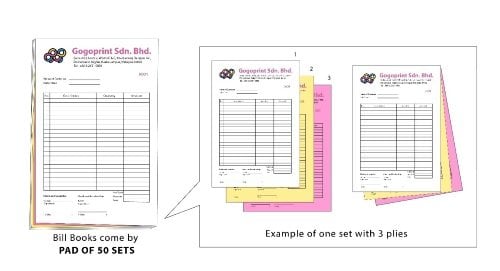 **Please note that the printed bill book pads do not come with a cover.
On top of this, you have the option to order some additional features for your bill books, namely a perforated line, and printed serial numbers.
PERFORATED LINE:Don't worry, the colored copies of your original always get a perforation line. But if you want to keep a record of your original invoices, you can print a design similar to the one below, which includes a perforated line to easily rip off the white pages as well.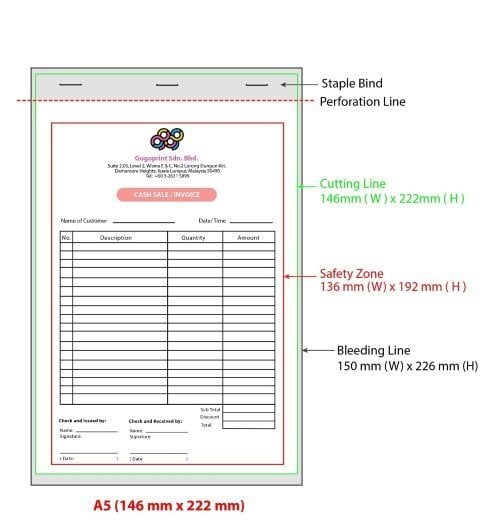 SERIAL NUMBERS:
You can choose to add serial numbers to your bill books as well. Serial number printing color is red by default but you can specify to our customer service to switch it to black color. The printing of serial numbers can be had either with or without a perforation line.
SERIAL NUMBER WITHOUT PERFORATION LINE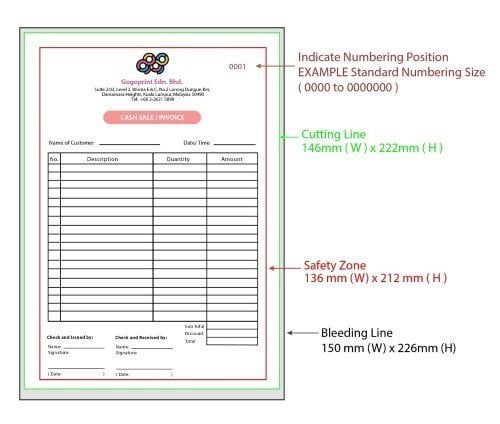 SERIAL NUMBER WITH PERFORATION LINE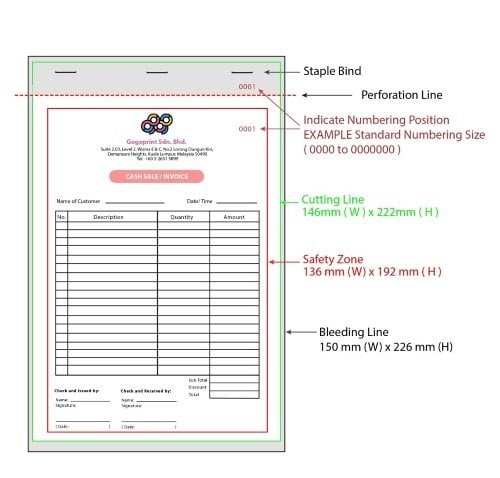 DID YOU KNOW: NCR stands for NO CARBON REQUIRED. In old times, bill books were provided with a blue carbon paper which was always ended up on your hands, making it very difficult to keep your bill book clean without any blue stains. We are nowadays using a special type of paper which does not require any blue carbon sheet and makes it much more user-friendly.
If you have questions about preparing artwork for bill books, or printing bill books, feel free to contact our customer service by phone or live chat!